Course details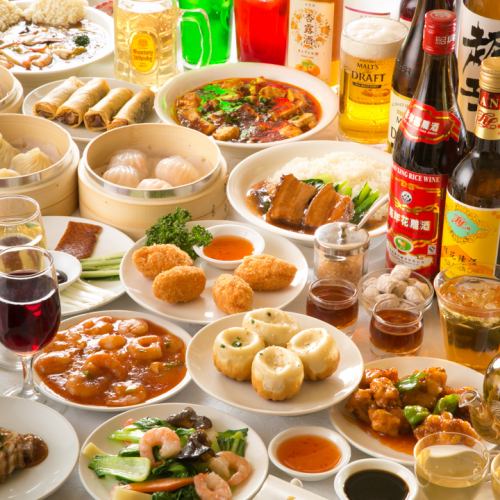 【All-you-can-eat with unlimited time】 All you can eat with 138 items + shark's fin! | For banquets and parties ♪ 6080 yen ⇒ 5000 yen
By using a coupon5000 Yen
Tax not included
138items

2

-

130persons

All-you-can-drink available

All you can drink draft beer!
Shark's fin is one for every one!
Course menu
[Shark's fin] One piece for one person!
【Appetizer】 15 kinds
【Seafood】 20 kinds
[Meat] 20 kinds
【Tofu / Vegetables】 12 kinds
【Soup · Pepper · Noodle】 12 kinds
[Rice Type] 12 kinds
[Dim sum] 24 kinds
【Dessert Desert】 5 kinds
【Dessert】 8 kinds
【Limited Time】 Niigata Food Fair Menu 10 items
※ Since it cooks after receiving your order, it will take a while until completion.You can place your order as many times as you like, but you can order 6 times per order.
※ Please take your cold dessert at the dessert corner.
※ We are committed to preparing the product, but please forgive in case of sold out.
All-you-can-drink menu
·beer
· Draft beer / bottled beer
· Shochu
· Wheat shochu / sweet distilled spirit
· Sour / cocktail
· Cassis Base / Peach Base / Oolong High
· Fruit sour
· Kanaka grapefruit / Katsura flower soda / Anno sake sour / Sake sake rock / litchi liquor / giant peak orange / lemon sour / white peach sour / banana sour / plum wine sour etc.
·wine
·Red and white
·whisky
· Single / double
· Japanese sake / Chinese sake
· Japanese sake / 5 years sake / Kanehana Chen
Available days for reservation

Monday - Sunday - Public holidays - Holidays
Coupons that can be used with this course
2018/12/15 update